Click here for Michelle's Daily Insights Video or go to

Today's Diving Board: I Chronicles 12:32
Today's Garden of Eden:
Essence: Dream Catcher, Lavender, Idaho Blue Spruce, Palmarosa, Melaleuca Quinquenervia, Cedarwood, Oregano, Gentle Baby, Marjoram, Sacred Frankincense, Longevity
Emotional & Mental Support:
Overcomes Negative Perspective – Competitiveness, Fear of Manifesting, Abandonment, Criticism, Fear of Unfoldment, Self-Destruction, Conceit, Fear of Completion, Disconnected, Suspicious, Unfulfilled, Choked
Promotes Positive Growth Perspective – Growth, Excelling, Acceptance, At-one-ment, Unconditional love, Openness, Value, Respect, Meekness, Know identity, Development, Secure, Connected, Honest, Safe, Awareness of identity and purpose, Empowered, Renewed, Aligned
I awoke in the wee dark hours of morning with the thoughts of anointing with cedarwood on my mind.
Here's my insights and ponder points from this morning!
Since I woke in the wee dark hours of morning ... you do not have to see my restful state presence. (You're welcome! LOL)
Identity has been a consistent I've been noticing lately in most conversations, studies and client sessions. We are in a time that now more than ever, it is important for us to know who we are and to set aside the things that are. If you do not have a firm understanding of your identity and purpose, then I encourage you to grab some cedarwood especially at bedtime and seek understanding so your foundation can be solid to enter into this next season of life.
If have any questions or want more information, please feel free to reach out to me.
I am passionate about Standing The Gap from where you are to where you can and want to be.
Be blessed!
Thank you for honoring me with your time. Besides following my Standing The Gap blog, subscribing to my Standing The Gap YouTube channel, attending a class or retreat, purchasing written materials, your purchase of any of the above essential oils from myself or one of our Be Healthy His Way Associates helps support our family business which helps support my being able to freely walk in my purposed calling in SEEING (Supporting, Educating, Empowering, Inspiring, Nurturing and Growing) others.
Blessings to You!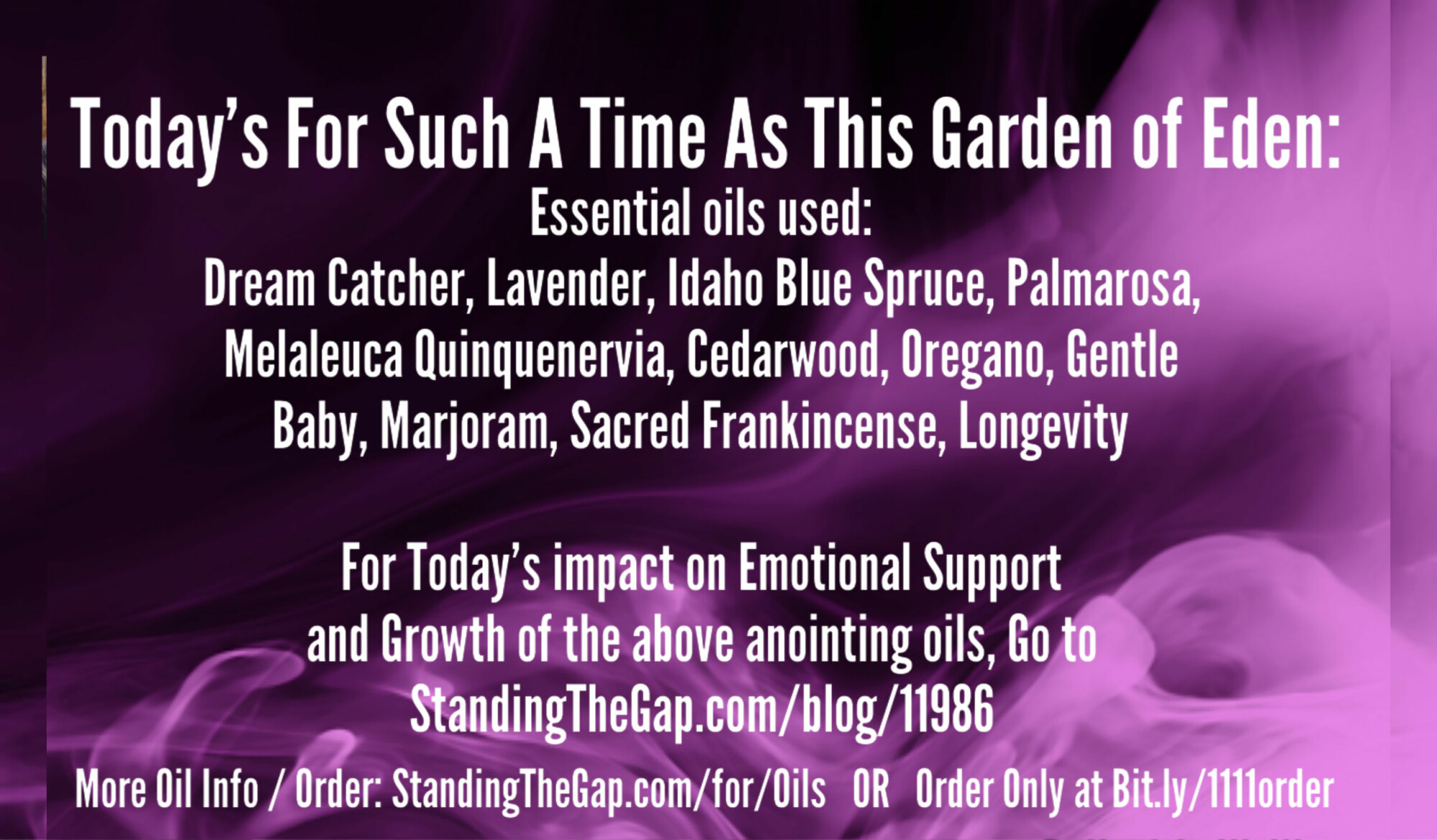 You get me as I am, sharing from my heart, from my wisdom, experiences, insights, humor and whatever other bunny trails come our way! Get ready for tears, laughter and accountability times. We only get the opportunity to live our life and each day once. Let's do it abundantly in our fullest potential.
I am sharing here in this video (https://youtu.be/30QXCJMGa1Y ) from my heart after being asked a question of how Believer's accept or connect with me and what I am passionately called to do.
I had to stop and ponder this as I can honestly say, I have been shut down and blocked to the point of bondage when it comes to sharing with my fellow believing brothers and sisters.
Celebrating yet another bondage breaking event. In this video I share my heart, who I am and what I'm lead to do, be, share.
My Ahha Moment ... everyone can't be for me as we are each in unique creations.
Some have already achieved what I am lead to share, support and teach - these can link arms and we can uplift and encourage each other or go on their way.
Some are not there yet, have no desire, dislike laughing, who knows ... except that we don't connect and you are NOT my people. That's okay! I bless you as you journey on your way.
Some are totally energetically seeking and connecting with who I am and how/what I share. You want to be your own best Advocate in all aspects of your life - physically, mentally, emotionally and spiritually. You my people and we will link arms and grow in your journey together. You like positive input, encouragement, laughter, being a part of a loving family, and so much more.
Welcome to my family!
Join one or all of my Facebook groups!
Follow my blog and YouTube channel.


Attend Live or online events and trainings.
Schedule group to one-on-one appointments.


Connect with me and let's get to know each other.

Become your own best Advocate!
I'm Standing The Gap from where YOU are to where you CAN and WANT to be.
Get ready!
I'm preparing the way.
Jesus is coming.


Be blessed!
Michelle Wendt
#StandingTheGap #ForSuchATimeAsThis #LivingTheBlessedLife #WithMeOrNotWithMe #MichelleWendt #YouAreMyPeople