I adore the unique beauty of the mornings!Same morning.Same time.Different directions of view.
Total different perspectives.
That's a great example of life.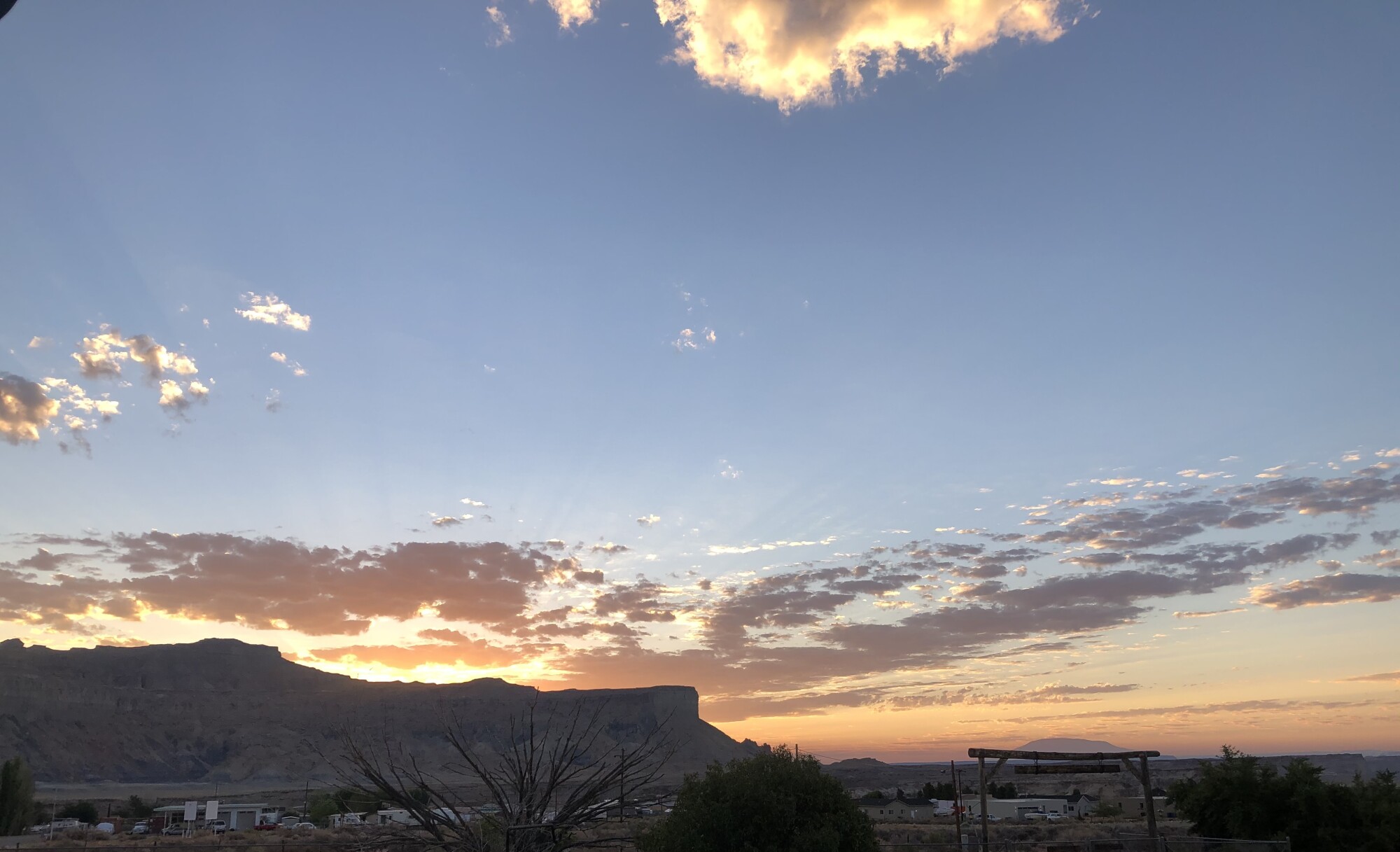 The dawn of the sun coming over the Mesa speaks to me of the promise of this new day.
Today ... I get to choose with a fresh start to my day. Yesterday is my past. I take what is good and mine to take for my created good and leave behind or dispose of the rest.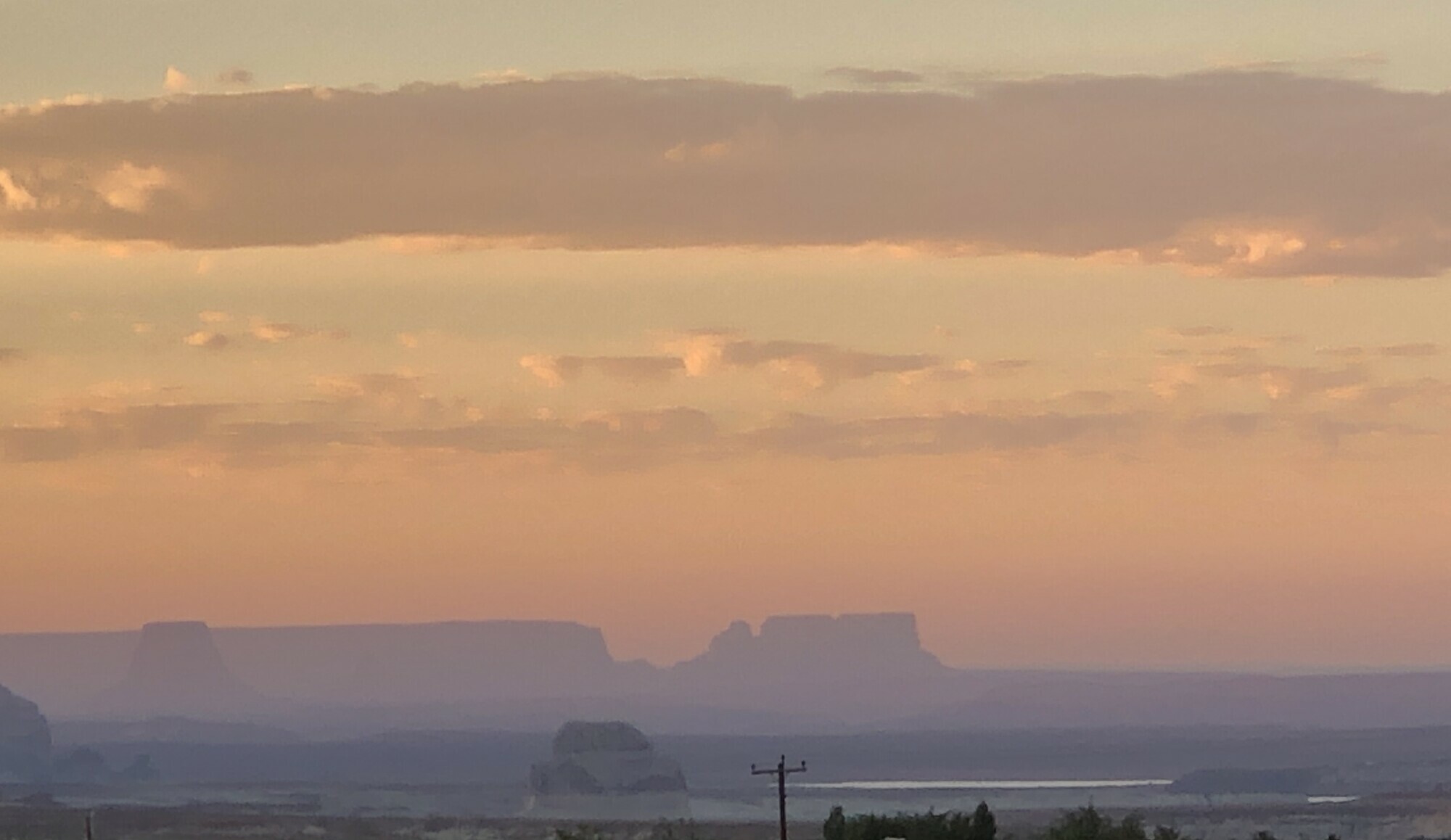 The hazy purple, pink, gray of the distant mesas to the South speaks to me of the promises of my day to come.

Like the view, it will be ever changing.

Like the view, I can participate in watching and enjoying the many changes and perspectives throughout the day ... or I can choose to not look and see the beauty and opportunities that are offered to me today.

Today ... I CHOOSE Joy!

Today ... I CHOOSE to speak blessings over all the people who my path crosses.

Today ... I CHOOSE to listen and share with at least 3 people, a blessing in my life that has added more than 4 income opportunities that support and blend with grace and ease with my ministry and my life.

Who wants to join me?
Who wants a spoken blessing?
Who wants the opportunity to say yes or no to an income opportunity that is raising my life to higher levels?

Message me, call me, text me, come see me!
You choose!

Today I call your spirit forth and bless you ...

May the promise of the dawn of a new day bring energy, hope and excitement of today, fulfilling your life calling to its fullest potential with joy and blessings overflowing!

So Be It!

#LivingMyBlessedLife
#BlessedOpportunities
#StandingTheGap
#myfathersblessing
#morningglories
#newdaynewblessings
#newdaypromises
#HopeIsAlive
#perspectives
#SouthwestSunrise
#Utahskies
#ArizonaBeauty
#promises
You get me as I am, sharing from my heart, from my wisdom, experiences, insights, humor and whatever other bunny trails come our way! Get ready for tears, laughter and accountability times. We only get the opportunity to live our life and each day once. Let's do it abundantly in our fullest potential.
I am sharing here in this video (https://youtu.be/30QXCJMGa1Y ) from my heart after being asked a question of how Believer's accept or connect with me and what I am passionately called to do.
I had to stop and ponder this as I can honestly say, I have been shut down and blocked to the point of bondage when it comes to sharing with my fellow believing brothers and sisters.
Celebrating yet another bondage breaking event. In this video I share my heart, who I am and what I'm lead to do, be, share.
My Ahha Moment ... everyone can't be for me as we are each in unique creations.
Some have already achieved what I am lead to share, support and teach - these can link arms and we can uplift and encourage each other or go on their way.
Some are not there yet, have no desire, dislike laughing, who knows ... except that we don't connect and you are NOT my people. That's okay! I bless you as you journey on your way.
Some are totally energetically seeking and connecting with who I am and how/what I share. You want to be your own best Advocate in all aspects of your life - physically, mentally, emotionally and spiritually. You my people and we will link arms and grow in your journey together. You like positive input, encouragement, laughter, being a part of a loving family, and so much more.
Welcome to my family!
Join one or all of my Facebook groups!
Follow my blog and YouTube channel.


Attend Live or online events and trainings.
Schedule group to one-on-one appointments.


Connect with me and let's get to know each other.

Become your own best Advocate!
I'm Standing The Gap from where YOU are to where you CAN and WANT to be.
Get ready!
I'm preparing the way.
Jesus is coming.


Be blessed!
Michelle Wendt
#StandingTheGap #ForSuchATimeAsThis #LivingTheBlessedLife #WithMeOrNotWithMe #MichelleWendt #YouAreMyPeople