Click here for Michelle's Daily Insights Video or go to

Today's Diving Board: I Chronicles 12:32
Today's Garden of Eden:
Essence: Dream Catcher, Lavender, Idaho Blue Spruce, Palmarosa, Melaleuca Quinquenervia, Cedarwood, Oregano, Gentle Baby, Marjoram, Sacred Frankincense, Longevity
Emotional & Mental Support:
Overcomes Negative Perspective – Competitiveness, Fear of Manifesting, Abandonment, Criticism, Fear of Unfoldment, Self-Destruction, Conceit, Fear of Completion, Disconnected, Suspicious, Unfulfilled, Choked
Promotes Positive Growth Perspective – Growth, Excelling, Acceptance, At-one-ment, Unconditional love, Openness, Value, Respect, Meekness, Know identity, Development, Secure, Connected, Honest, Safe, Awareness of identity and purpose, Empowered, Renewed, Aligned
I awoke in the wee dark hours of morning with the thoughts of anointing with cedarwood on my mind.
Here's my insights and ponder points from this morning!
Since I woke in the wee dark hours of morning ... you do not have to see my restful state presence. (You're welcome! LOL)
Identity has been a consistent I've been noticing lately in most conversations, studies and client sessions. We are in a time that now more than ever, it is important for us to know who we are and to set aside the things that are. If you do not have a firm understanding of your identity and purpose, then I encourage you to grab some cedarwood especially at bedtime and seek understanding so your foundation can be solid to enter into this next season of life.
If have any questions or want more information, please feel free to reach out to me.
I am passionate about Standing The Gap from where you are to where you can and want to be.
Be blessed!
Thank you for honoring me with your time. Besides following my Standing The Gap blog, subscribing to my Standing The Gap YouTube channel, attending a class or retreat, purchasing written materials, your purchase of any of the above essential oils from myself or one of our Be Healthy His Way Associates helps support our family business which helps support my being able to freely walk in my purposed calling in SEEING (Supporting, Educating, Empowering, Inspiring, Nurturing and Growing) others.
Blessings to You!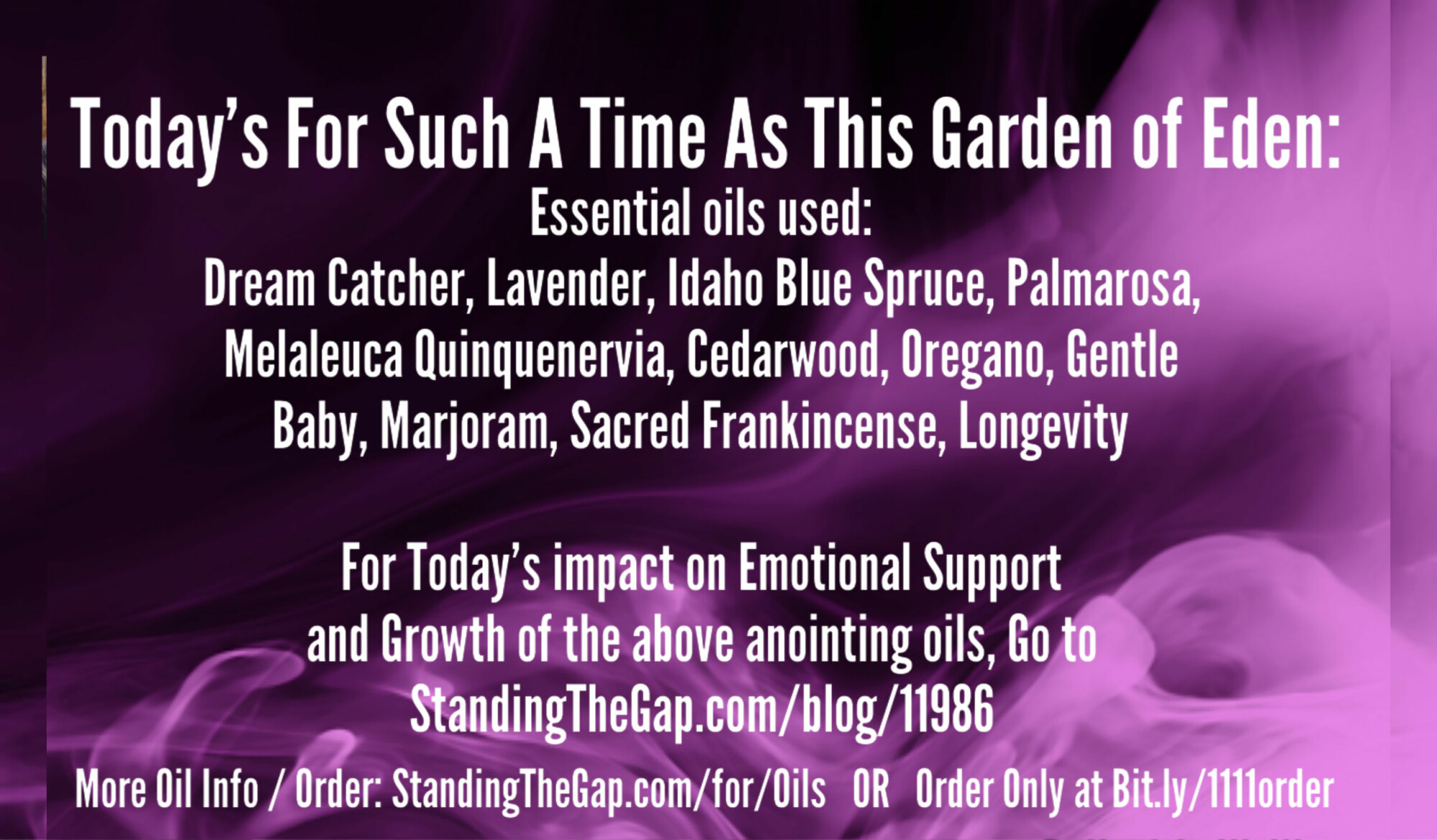 How many days and counting?
Are you experiencing little things disrupting your peaceful state?
Are your loved ones rocking your boat?
Do you want to scream but push it down inside?
Are you making yourself want to scream?
Do you feel a scream building up from inside from everything you've stuffed?
Who knew being in "lockdown" with your loved ones or maybe you are in quarantine all by yourself ... could drive you bonkers?!?!?!
In my conversations with family, friends, associates and clients ... I'm seeing more and more emotions that have been stuffed or swallowed starting to build up enough steam that they are ready to blow.
Honestly guys, stuffing emotions is not a healthy thing. It has been linked to diseases. Plus it disrupts your state of peace and control at often unexpected and unplanned times. It's best to deal with it. However, this does not give you license to spew all over everyone else in your releasing of the emotions. You will be happier to do it with grace and ease and come out smelling pretty and looking joyful.
This is my area of passion and expertise from personal experience that launched into ministry and a practice.
Here's one of the ways to help you maintain your health by releasing the emotions safely. If you need help as in a facilitator, schedule an appointment and let's get this taken care of.
Life's too short to stay in bondage to things of the past.
I'm here for you Standing The Gap from where you are to Where You Can and Want to Be!
Be Blessed!