Michelle Wendt
Bible Insights, Clarity, Emotional Dimension, Eucalyptus Blue, Eucalyptus Globulus, Eucalyptus Radiata, Fennel, For Such A Time As This, Garden of Eden, Mental Dimension, Michelle's Daily Insights, Myrrh, Oola Grow, Spiritual Dimension, YouTube Channel Standing The Gap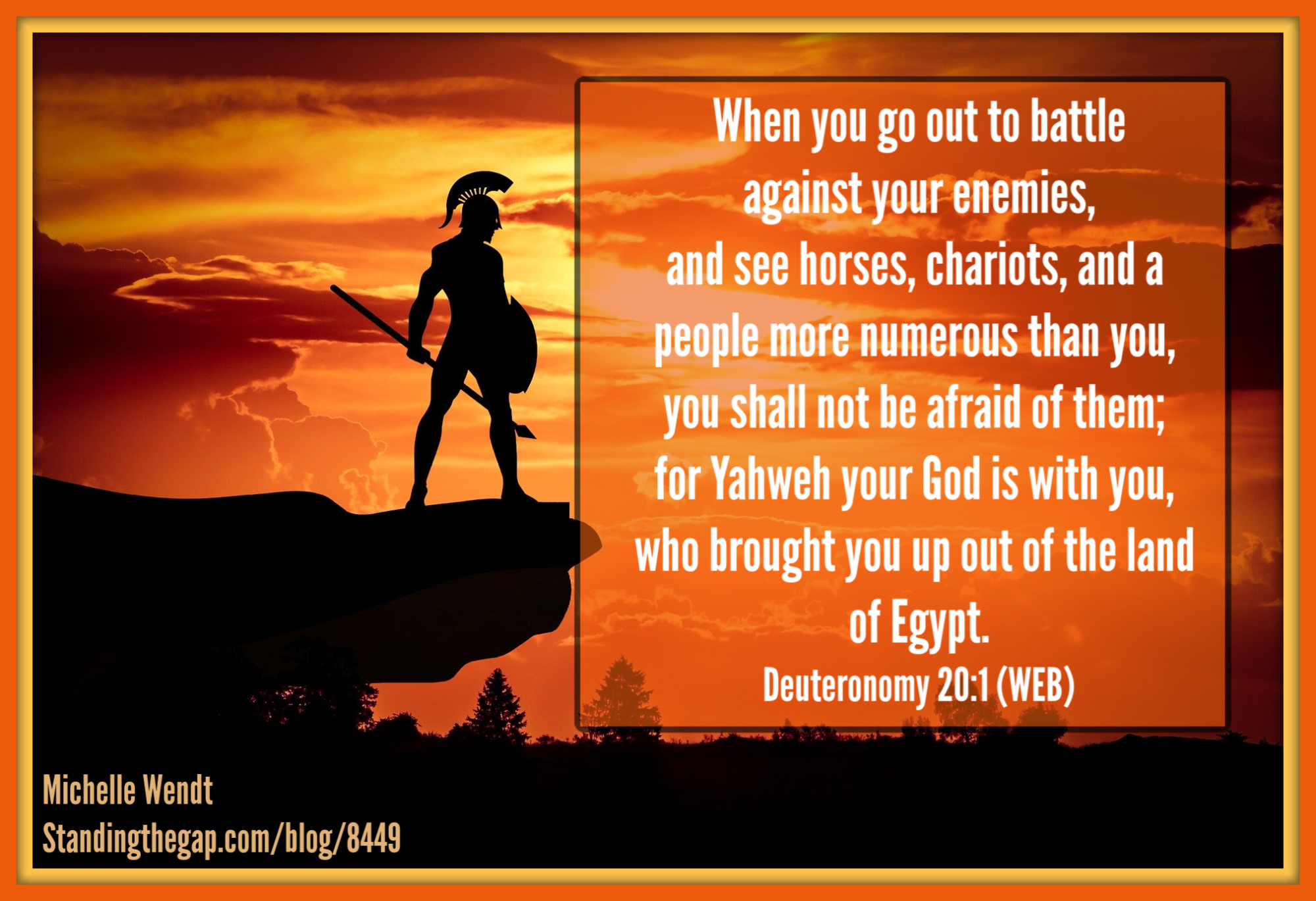 Click here for Michelle's Daily Insights Video or go to https://youtu.be/jbj0jjgzrQg
Today's Diving Board: Deuteronomy 20:1 WEB
Today's Garden of Eden:
Essence: Fennel, Clarity™, Oola Grow™, Eucalyptus Blue, Eucalyptus Radiata, Eucalyptus Globulus, Myrrh
Emotional & Mental Support:
Overcomes Negative Perspective – Emotional Stress, Guilt, Repression, Frozen, Suppressed Emotions, Bondage, Physical Stress, Fear of Facing the World, Difficulty
Promotes Positive Growth Perspective – Harmony, Deserve what get, Learn from experiences, Creativity, New Perspective, Vital, Move with ease, Protected, Freedom, Like Self, Fun, Embracing the World, Safe, Knowing, Movement in Life
Wow! Last night our neighbors had an intense battle that had me praying a safety covering over all and my husband out in the below freezing weather being Jesus skin on offering a jacket and releasing peace into the atmosphere. Then today, my heart is for speaking a blessing over you and Deuteronomy 20:1 was the scripture put on my heart to base it on. Does it get any better than this? I adore following the leading of the Holy Spirit as it is NEVER wrong and always what I need For Such A Time As This that I am currently walking in at that moment. I am grateful I can stand firm on His promises and say, "NOT TODAY SATAN!".
I am ever grateful for His Garden of Eden* today during my study time to support my physical, emotional, mental and spiritual being as I am being challenged and stretched during my time of study For Such A Time As This. I am grateful for these declarations to stand on in preparing for and during the midst of the battle.
I know, I say this almost every time, some would say its "random" selection but I know who leads me and prepares my daily Garden for me to walk with Him in. My heart is so filled with joy at how much I am loved and trusted to do what He is leading me to do. I am humbled at the care He took in creating the emotional and mental growth support for today. It was as always … spot on with where I am walking in life today.
Thank you for honoring me with your time. Besides following my Standing The Gap blog, subscribing to my Standing The Gap YouTube channel, attending a class or retreat, purchasing written materials, your purchase of any of the above essential oils from myself or one of our Be Healthy His Way Associates helps support our family business which helps support my being able to freely walk in my purposed calling in SEEING (Supporting, Educating, Empowering, Inspiring, Nurturing and Growing) others.
Bold Blessings to You!
200205