Michelle Wendt
Discernment, Gifts, Jennifer Eivaz, Life Advocate, Life Calling, Life Skills, Michelle Wendt, Michelle's Daily Insights, My Fathers Blessing Ministries, Purpose, Standing The Gap, StandingTheGap

Question: Have you ever been in a place or around people where you were uncomfortable? Do you avoid crowds or specific places or events?
Last week In our Thursday Prayer group, Bob brought up the gift if discernment.
This morning I get this insight:
I believe we all have it in some degree. The places or
events
that make you uncomfortable are often because of discernment that you have that the enemy attacks because you don't recognize you have the gift of discernment, don't know how to walk in the gift of discernment or need to physically and emotionally strengthen yourself to be better able to walk in and grow in the gift of discernment.
Jennifer Eivaz brought up some interesting information in her sharing her experience with the gift as a new believer who was unaware of it.
Here's a link if you want to listen:
In the past I did sessions with spoken affirmations to build ourselves mentally and emotionally. Thinking I am going to be walking through then again with myself as a wellness check. Let me know if you want to join in with me.
I adore how God brings things into our awareness when we don't value or put feet to the insights He gives us of steps to take in the stillness of our time with Him.
Oh how much further we would be in our growth if we got it and took action immediately in the spiritual realm instead of having to go through the emotional then mental to get to the final physical realm of "get it or be done".
Michelle Wendt
Anxiety, Be Healthy His Way, Blues, Confidence, Conflict, Depleted, Diffuser Blends, Disappointment, Discernment, Freedom, Fun, Grief, Happy, Harmony, Incongruency, Joy, Judgment, Miserable, Real, Rejuvenated, Standing The Gap, Stress, Winter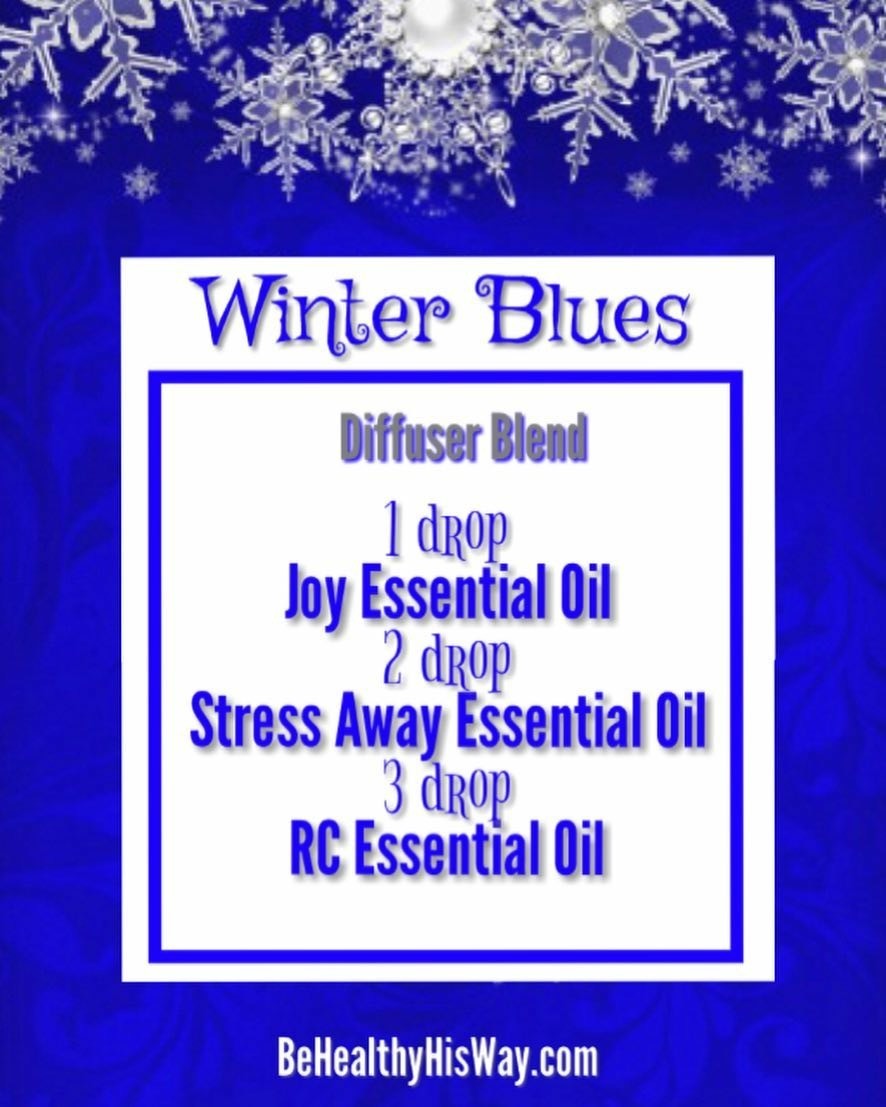 This is my life and I'm gratefully Blessed with the best tools in my Life Toolbox! It's MONDAY 😮😧🙄

WINTER BLUES Diffuser Blend ...

Let me count the ways your essence blesses and supports me today:

🎯Anxiety becomes CONFIDENCE
🎯Disappointment becomes FREEDOM
🎯Grief becomes HAPPY
🎯Incongruency becomes REAL
🎯Judgment becomes DISCERNMENT
🎯Miserable becomes JOY
🎯Depletion becomes REJUVENATED
🎯Conflict becomes HARMONY
🎯Stress becomes FUN

And what started as a mundane Monday has now impacted my olfactory system and limbic region of my brain and it is now a glorious Marvelous Monday!

🎯Mundane Monday becomes MARVELOUS MONDAY!

It's a total WIN!!!

Oh the joys of learning about supporting health from all dimensions - physical, mental, emotional and spiritual. Just a few drops of oil, a click of the diffuser and the positive affirmations flow greater with every breath I take.

What are you filling your environment and body with?

The BeHealthyHisWay.com Associates want to know ...
What's in your diffuser?

#Monday #WinterBlues #Joy #StressAway #LifeToolBox #BreathingLife #LivingTheBlessedLife #StandingTheGap #BeHealthyHisWay


#Monday #WinterBlues #Joy #StressAway #LifeToolBox #BreathingLife #LivingTheBlessedLife #StandingTheGap #BeHealthyHisWay