Michelle Wendt
2 Chronicles, Abundance, Bible Insights, Eucalyptus Radiata, Faith, For Such A Time As This, Garden of Eden, Joy, Michelle's Daily Insights, Vetiver, Ylang Ylang
Click here for Michelle's Daily Insights Video or go to https://youtu.be/Jp2b2D3mkBI
Today's Diving Board: 2 Chronicles 16
Michelle's Inspiring Verse:
"For The EYES of the LORD move to and fro throughout the earth that He may strongly support those whose HEART is completely His." 2 Chronicles 16:9a NASB
Today's Garden of Eden*:
Essence: Vetiver, Ylang Ylang, Eucalyptus Radiata, Joy, Faith, Abundance
Emotional & Mental Support:
Overcomes Negative Perspective – Overactive or Racing Mind, Not fulfilling Purpose, Drained, Fear of Wisdom, Possessiveness, Physical Stress, Anxiety, Disappointment, Grief, Incongruency, Judgment, Miserable, Not Enough, Poor, Scarcity, Struggle, Worry, Don't Belong, Embarrassed, Insecurity, Misperception, Sorrow
Promotes Positive Growth Perspective– Stillness, Triumphance, Fulfilled, Complete, Illumination, Facing the fear, Sharing, Fun, Confidence, Freedom, Happiness, Growth, Real, Seeing Big Picture, Regard, Discernment, Joy, Plenty, Asking & Receiving, Supported, Abundance, Clarity, Depth, Acceptance, Self-Value, Embraced, Success, Understanding, Peace, Balance
As usual, I do not look at the emotional and mental side of the essential oils selected for my Garden of Eden for the day's study until after my study time is complete. I am totally blessed from the top of my head to the tip of my toes with awe that before I even dive into my study time, my physical, emotional, mental and spiritual being are being uplifted and prepared for what is to come during my time of study by this Garden of Eden blend created today For Such A Time As This.
Some would say its "random" selection but I know who leads me and prepares my daily Garden for me to walk with Him in. I stand in complete awe now looking at the emotional and mental growth support for today. It was as always … spot on with where I am walking in life today. And that brings to mind a song that my mom and I used to sing together and that I would sing my sons to sleep with when they were younger ...
In the Garden
I come to the garden alone,
While the dew is still on the roses,
And the voice I hear falling on my ear,
The Son of God discloses...
And He walks with me, and He talks with me,
And He tells me I am His own,
And the joy we share as we tarry there,
None other, has ever, known!
He speaks and the sound of His voice,
Is so sweet the birds hush their singing,
And the melody that he gave to me,
Within my heart is ringing . . .
And He walks with me, and He talks with me,
And He tells me I am His own,
And the joy we share as we tarry there,
None other, has ever, known!
And the joy we share as we tarry there,
None other, has ever, known!
Words and Music by C. Austin Miles, 1912
Inspired by the gospel of John, chapter 20, this hymn celebrates the joyous companionship its author, C. Austin Miles, experiences with Jesus as he walks through the garden. Read his journal entry at https://www.godtube.com/popular-hymns/in-the-garden/
Thank you for honoring me with your time. Besides following my blog, subscribing to my YouTube channel, attending a class or retreat, your purchase of any of the above *Garden of Eden Essential oils from myself or one of our Be Healthy His Way Associates helps support our family business which helps support my being able to freely walk in my purposed calling in Supporting, Educating, Empowering, Inspiring, Nurturing and Giving (SEEING) others.
Abundant Blessings to You!
Michelle Wendt
1111STGap, Abandonment, At-One-ment, Be Healthy His Way, Being used, Diffuser Blends, Emotional Release, Geranium, Health by Emotions, Holistic Health, Jasmine, Lavender, Mind Overactive Racing, Natural Heath, Respect, Stillness, Triumphant, Unconditional Love, Vetiver, Worth, Worthless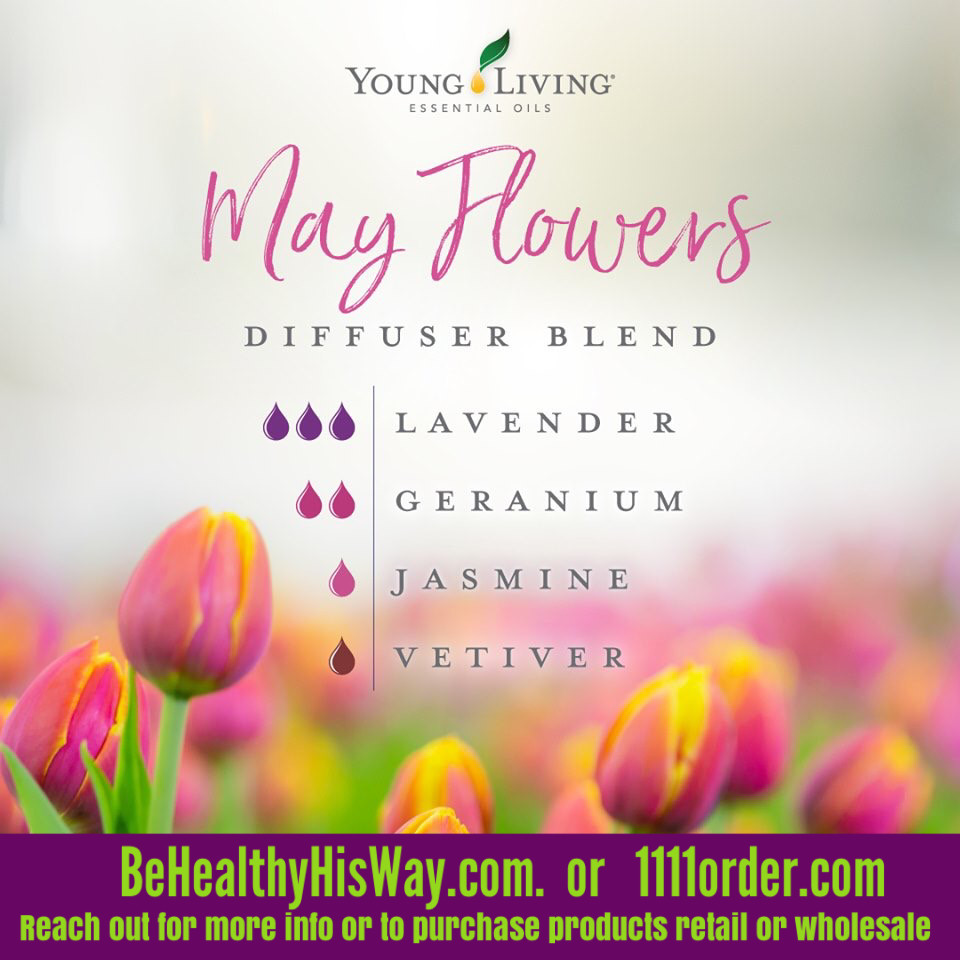 Are you purposeful about how and what you use to clean the air of your home, office, car?
Do you grab the cheapest thing you can get that smells?
Do you read the label to see if the ingredients impact your mental, physical and emotional well being in a positive or negative way?
Our family has experienced the health challenges first hand from a past life of surrounding ourselves with the use of products that actually cause health challenges or exacerbate existing situations.
Today we are more aware of what we use in, on and around us. We purposefully choose to speak life and natural health building options.
Today we are diffusing the May Flower blend in the graphic below.
It's making our home smell absolutely amazing!
Even better ...
it's supporting our mental and emotional health side.
When you diffuse with a holistic purpose you edify your physical, mental, emotional and spiritual. Body, Spirit and Soul are boosted in one simple act.
This particular MAY FLOWER DIFFUSER blend helps support overcoming NEGATIVE feelings of: abandonment, criticism, fear of unfoldment, being self-centered, wanting to please, being used, feeling unworthy, mind over active and/or racing, not fulfilling your purpose.
It helps you be able to grow and expand in the POSITIVE: at-ONE-ment, embracing life, unconditional love and acceptance, openness, respect, balance, detachment, loving who you are, respect of yourself, worth, stillness, triumphance.
We enjoy making diffuser blends based on what our bioscans shows as areas our bodies need to balance. It's crazy awesome how the blends smell so delightful - even when we blend each of our individual bioscans together for our living room.
It's a great feeling to know you are cleaning the air around you as well as supporting health building in those who connect with your space from a purposeful, natural stance.
We're passionate about educating on holistic health, especially the mental and emotional side!
What are you putting in the air around you?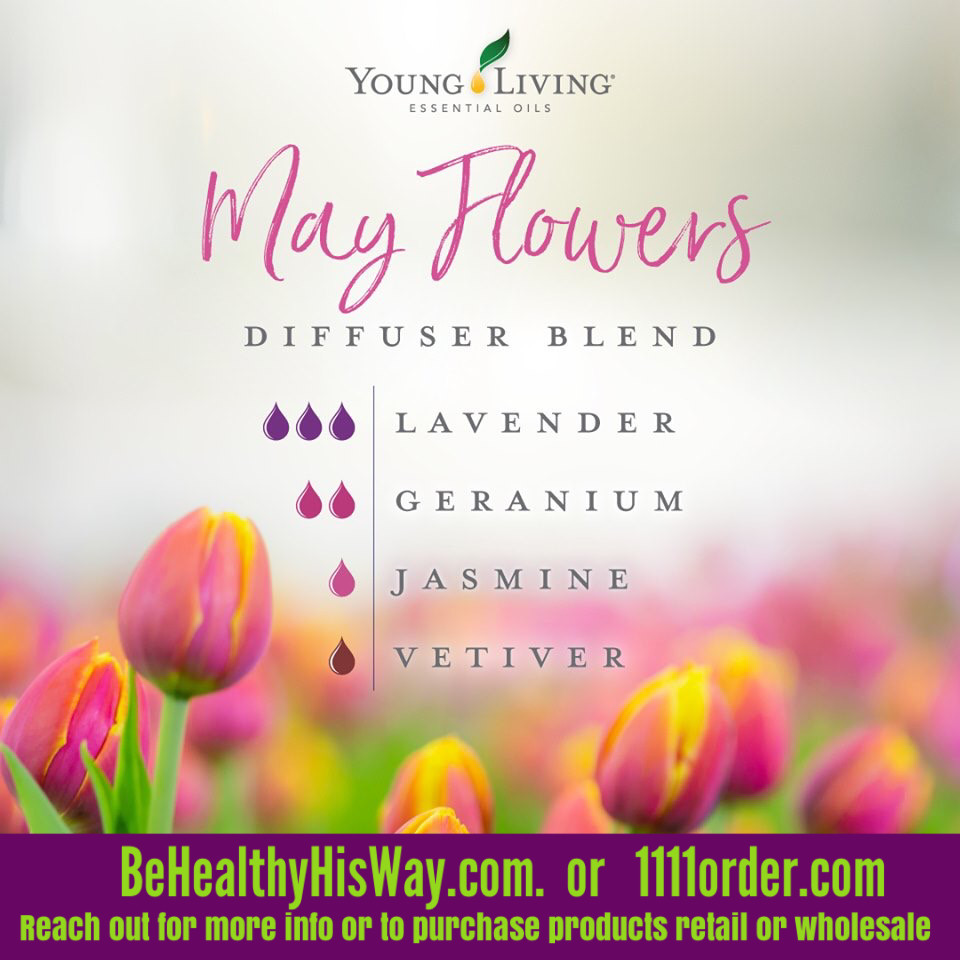 Michelle Wendt
Agilease, Be Healthy His Way, BLM, Bone Support, Cool Azul, Copaiba, Cypress, Deep Relief, Dorado Azul, Eucalyptus Blue, Frankincense, Helichrysum, Idaho Balsam Fir, Idaho Blue Spruce, KISS Education Series, MegaCal, Ortho Ease, Ortho Sport, Palo Santo, PanAway, Peppermint, Pine, Relieve It, Sacred Frankincense, Standing The Gap, Sulfurzyme, Triva, Vetiver
Today's Trivia Education:
What's one of the things the following items have in common?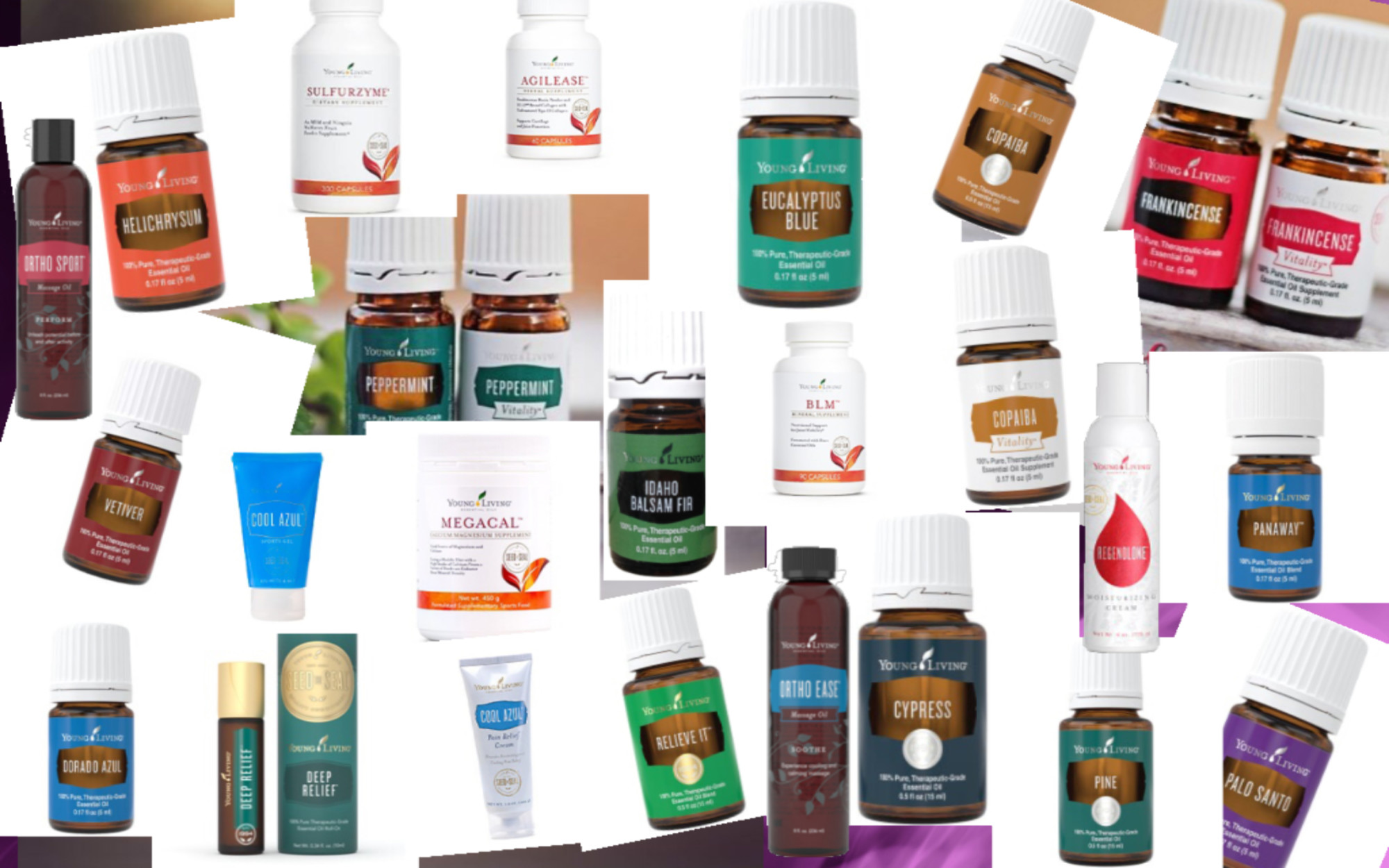 Helichrysum, Peppermint, Sacred Frankincense, Frankincense, Eucalyptus Blue, Vetiver, Idaho Balsam Fir, Copaiba,Dorado Azul, Palo Santo, Idaho Blue Spruce, Pine, Cypress, PanAway, Relieve It, Deep Relief, Cool Azul essential oils and Sulfurzyme, MegaCal, BLM, Agilease, Ortho Ease and Ortho Sport massage oils

(Hum or Sing "The Jeopardy" theme song here for me please ... I know, your welcome, ... now the song is in your head! 😁)

Ready for Today's Trivia Education answer?

As we know, with essential oils and oil infused products, they aren't just for one specific thing. This makes them a must to have in your Natural First Response Healthy Toolbox! Their multi use makes them even more cost effective.

However for today, we are looking for the answer ...

Did you know? ...

(If you read your Desk Reference then I know I'll here a yes here ... but can you tell me what Edition and Page(s) you find it on?)

... one of the most effective essential oils for blocking discomfort is Helichrysum.

... a 1994 study shows Peppermint is extremely effective in blocking calcium channels and substance P, important factors in transmission of pain signals.

... these essential oils each have unique discomfort relieving prosperities. (Hint: look at the emotional side of the oil and see which works best for you where you are at the specific moment.)

...Sulfurzyme, and excellent source of MSM which is a source of organic sulfur, is extremely effective for alleviating discomfort, especially in the tissue and joints.

... Regenolone moisturizing cream was designed for people who have severe challenges with inflammation and stiffness from various muscle and joint support needs. The pregnenolone synergy effect combined with other natural and essential oil components provides unmatched blunt support with all types of muscle and skeletal discomforts.

Who's used the Regenolone moisturizing cream? Share your health building story below!
Got a bone challenge? Check out these products until you find what fits your physical, mental, emotional and spiritual life balance needs. But wait! There's even more great products! Thus no excuse to give up until you find what supports your health journey best.
Thanks for joining us for today's Trivia component!!!
Connect with our
BeHealthyHisWay.com Associates
. We adore supporting and cheering you on in your healthy life balancing journey!
We are Standing The Gap from where you Are to where you Can and want to Be!
Be Blessed!
#BoneSupportHealth #BoneSupportTrivia #BonesAndTheirEmotionalSide #StandingTheGap #BeHealthyHisWay #YouthfulBoneRestoration #MovingLikeAYouthExperienceOfASenior