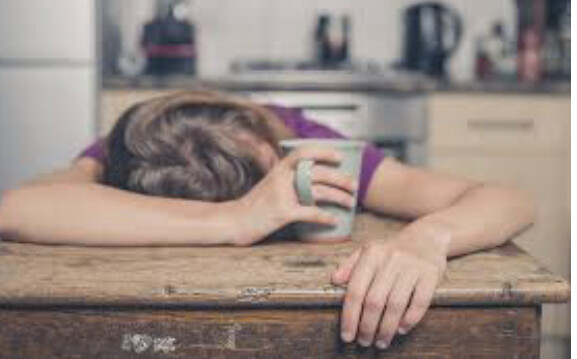 So who feels like they are running constantly but accomplishing nothing?

Who's waking in the morning ready for a nap or a break before even getting out of bed?

The photo below has some great tips from Brandon Burchard.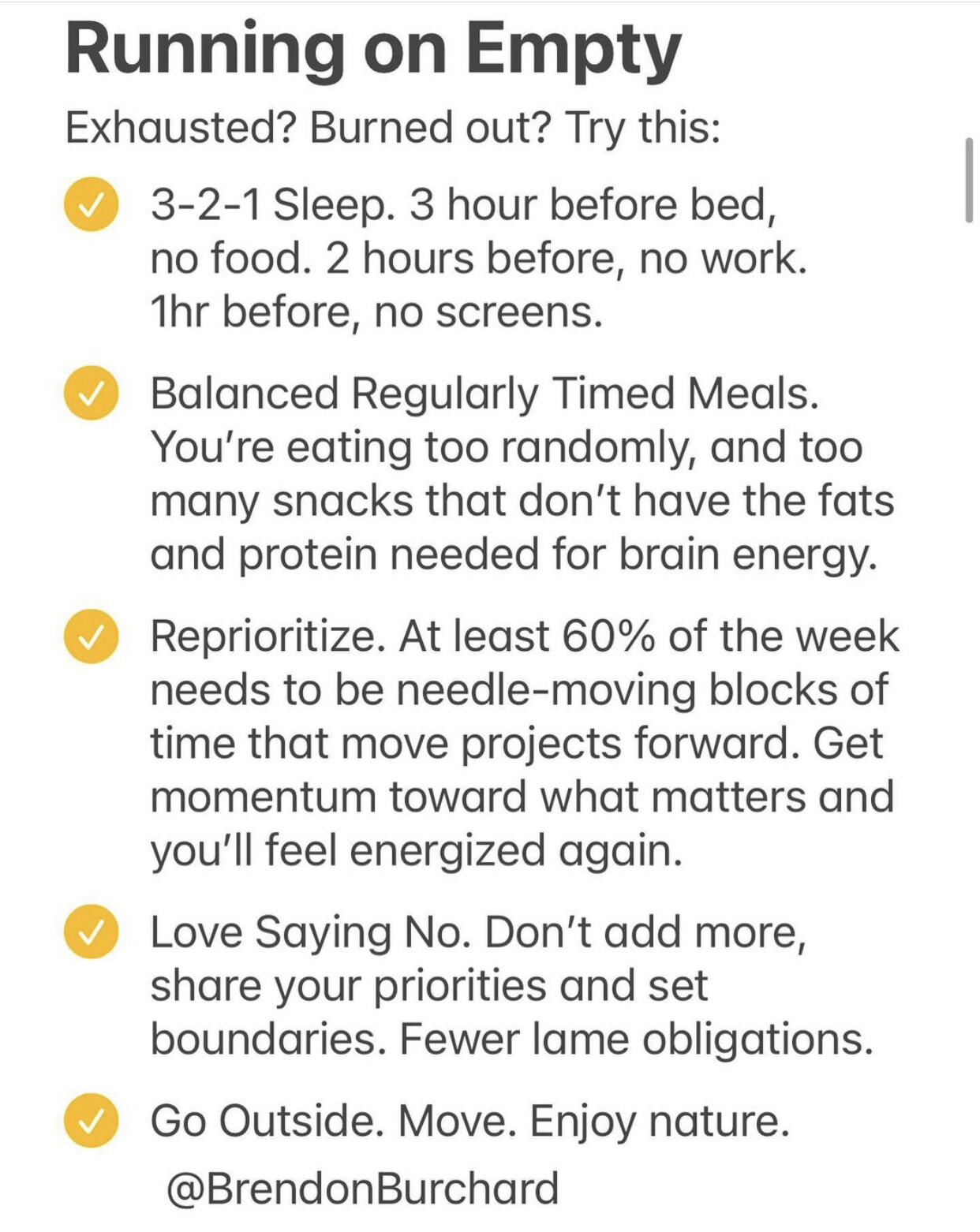 As I am sharing with more and more people opportunities to partner with me in business I am so filled with excitement at watching their dreams come true that I am at times not getting myself enough nutrition, exercise and rest.

Fortunately, I have some amazing things in my Healthy Toolbox to help support my health, nutrition and mental emotional needs in this season of running all out.


Since I don't drink coffee, my go to grab of my flavor of the day Sport drink that builds health and energy is a must. I also do other things to help support and keep me running at a healthy level to be able to show up and do my best for every situation and opportunity I'm give z
What's your personal experience tips and products you use to get going and productive?
I shared this in my special encouragement and accountability group that I have. However, I am being led to share it here too for those of you who are not a part of my special group yet but need to hear this today. (Here's the link to join my special group
https://www.facebook.com/groups/2455814451326832
)
Every day is started with gratitude often before I even open my eyes for the first time. I totally enjoy selecting 3 different things each day that I am grateful for that are different from the past days. It helps set my day on a gratitude journey and atmosphere.
Then I randomly select my anointing oils for the day and anoint myself and fill my diffuser.
Next, I take my daily "Dump". I originally started with the goal of 3 written pages or 30 minutes of writing whatever is on my heart and mind or comes up in my thoughts. Now, I generally have more than 3 pages and often times ... gasp ... go over my 30 allotted minutes. However, most days I implement the rule that I had when I was schooling my sons ... to stop while you are still eager and wanting to do more. This causes anticipation and looking forward to tomorrow's "Dump" session.
And finally, after I'm done with my "Dump" session ... I do the research to see what emotional, mental and spiritual mindset shift areas I'm being grown and stretched in.
Today, here's the negative mindsets that are being overcome:
Not enough, poor, scarcity, struggle, worry, being less than, not good enough, tired, flustured, loss, illusion, malice, repressed emotions, stuffed emotions, resistance to change, taken for granted, and shut down.
And here are the positive mindset shifts that I am being stretched and expanded to new levels in:
Plenty; ask, believe & receive, clarity, supported, abundance, depth of understand, sharing, i am spot on, acceptance, expressing my best, rejuvenated, renewed, present, gain, benevolence, protected, speaking out, wanted, lovable, steady, learn from life, honored, creative, and vibrantly alive.
Wow! That totally gets me going and looking forward to charging through whatever comes my way today with a boldness and confidence.
There's more that I do to uplift and edify myself to do what I'm called and passionate about doing ... but I am excited to get going so I'll just put those to share on another day.
Here's your PONDER POINT:
What are you doing to build yourself up and empower yourself to be the best you, you were created to be?
Share in the comments below, I adores hearing from you.
For those that want to know more about the anointing oils I used today, click the links in the you tube video for more information or connect with me
https://bit.ly/michellewendt
I am totally passionate about Standing The Gap from where you are to where you can and want to be!
Be Blessed!

Gratitude, Dumping, Abundance, Humility, Present Time, Patchouli, Positive emotions, Negative emotions, Mindset, Michelle Wendt, Standing The Gap,
Click here for Michelle's Daily Insights Video or go to https://youtu.be/Jp2b2D3mkBI
Today's Diving Board: 2 Chronicles 16
Michelle's Inspiring Verse:
"For The EYES of the LORD move to and fro throughout the earth that He may strongly support those whose HEART is completely His." 2 Chronicles 16:9a NASB
Today's Garden of Eden*:
Essence: Vetiver, Ylang Ylang, Eucalyptus Radiata, Joy, Faith, Abundance
Emotional & Mental Support:
Overcomes Negative Perspective – Overactive or Racing Mind, Not fulfilling Purpose, Drained, Fear of Wisdom, Possessiveness, Physical Stress, Anxiety, Disappointment, Grief, Incongruency, Judgment, Miserable, Not Enough, Poor, Scarcity, Struggle, Worry, Don't Belong, Embarrassed, Insecurity, Misperception, Sorrow
Promotes Positive Growth Perspective– Stillness, Triumphance, Fulfilled, Complete, Illumination, Facing the fear, Sharing, Fun, Confidence, Freedom, Happiness, Growth, Real, Seeing Big Picture, Regard, Discernment, Joy, Plenty, Asking & Receiving, Supported, Abundance, Clarity, Depth, Acceptance, Self-Value, Embraced, Success, Understanding, Peace, Balance
As usual, I do not look at the emotional and mental side of the essential oils selected for my Garden of Eden for the day's study until after my study time is complete. I am totally blessed from the top of my head to the tip of my toes with awe that before I even dive into my study time, my physical, emotional, mental and spiritual being are being uplifted and prepared for what is to come during my time of study by this Garden of Eden blend created today For Such A Time As This.
Some would say its "random" selection but I know who leads me and prepares my daily Garden for me to walk with Him in. I stand in complete awe now looking at the emotional and mental growth support for today. It was as always … spot on with where I am walking in life today. And that brings to mind a song that my mom and I used to sing together and that I would sing my sons to sleep with when they were younger ...
In the Garden
I come to the garden alone,
While the dew is still on the roses,
And the voice I hear falling on my ear,
The Son of God discloses...
And He walks with me, and He talks with me,
And He tells me I am His own,
And the joy we share as we tarry there,
None other, has ever, known!
He speaks and the sound of His voice,
Is so sweet the birds hush their singing,
And the melody that he gave to me,
Within my heart is ringing . . .
And He walks with me, and He talks with me,
And He tells me I am His own,
And the joy we share as we tarry there,
None other, has ever, known!
And the joy we share as we tarry there,
None other, has ever, known!
Words and Music by C. Austin Miles, 1912
Inspired by the gospel of John, chapter 20, this hymn celebrates the joyous companionship its author, C. Austin Miles, experiences with Jesus as he walks through the garden. Read his journal entry at https://www.godtube.com/popular-hymns/in-the-garden/
Thank you for honoring me with your time. Besides following my blog, subscribing to my YouTube channel, attending a class or retreat, your purchase of any of the above *Garden of Eden Essential oils from myself or one of our Be Healthy His Way Associates helps support our family business which helps support my being able to freely walk in my purposed calling in Supporting, Educating, Empowering, Inspiring, Nurturing and Giving (SEEING) others.
Abundant Blessings to You!