I may or may not be have shared here before. However, the fact is ... today I am called to share this blessing.
In today's world, there is a constant drain from activity -yes, even with current imposes restrictions -, expectations, noise, etc.

We need to be aware of who we allow into our inner circle AND who we have around us.
If they are giving healthy energy, laughter, encouragement, positive feedback ... if they are linked with purpose to support and give you life to be whom you are beat at and excel in ... Receive, Link arms with them, KEEP THEM!


If they are killing, stealing, and destroying your peace, joy, dreams, visions, energy, love, ... CUT TIES and set them on the curb with the trash to be picked up and healed with the rest of the rot and decay. (Yes this may include famiky members, long time friends and others.) Some things can grow into something beautiful in the rot and decay ... compost pile ... other things ir people just decay and become part of the soil again where the good nutrients are taken to help grow and foster new starts.


Make your choices wisely, your present day, future and legacy are being built on them.

I am passionate about Standing The Gap between where you are and where you can and want to be!

Be blessed!
Perspectives and Memories ... two things that can be very impactful and help bring balance to situations. Help us to grow and expand.
Perspectives are something that everyone has AND to each individual, THEIR perspective is the CORRECT one.
Sometimes we are fortunate to be privy and open to hear other people's perspectives.
Sometimes truths come out that rock our perspectives and how we have been limiting and block ourselves from moving forward living and receiving the blessings that are rightfully ours.
Memories can sometimes be the healing salve or balm to help us make it through the current season that we are in.
Memories can make our heart tender.
Memories can remind us of things in our past that we have made it through and come out on the other side.
Memories can help us see the victory in different situations. They can help us see how we have grown and become stronger. Or they can help us see that it is time to break the chains of bondage from our past.
Today, as I am making room on my phone, (yes my phone is full of photos and videos that not shared are useless to everyone including myself.) Thus, I created this video.
What started out as an item on my TO DO list ... has rendered my heart tender. Has saturated it with love and sweet memories making it full and overflowing. (Yes, my eyes may have weeped some of the love forth too. LOL)
Unbeknownst to me, TODAY ... today, I needed this.
I needed the memory of this ride with my husband, my earthly love of my heart.
I needed the reminder of what started out to be a leisurely ride on a beautiful day turned into a torrential downpour. A time of intense prayer from my inner most being as we were being soaked to our inner most parts (Yes! I literally mean inner most parts ... my bum didn't even have a dry spot and I was sitting on it!)
Even all these years later I remember the battle of my faith against the attack of fear that was attempting to invade my life as I could feel the bike slide on the slick highway, the hydroplane situations we experienced that can be deadly in a vehicle ... let's not even think about a motorcycle.
I remember digging down deep and making a choice to stand firm on our prayer before we set out on our ride for safety, protection and to change the atmosphere and lives we were blessed to cross paths with while we were out. Instead of walking in doubt and unbelief and asking God once again for safety, protection and connection ... I made the choice to PRAISE and GIVE THANKS for staying upright, for being blessed with a Harley to be able to enjoy the beauty of our surroundings, for a camera to record the memory, for underwear that could get wet even through my leathers (yes, I was digging deep and being creative to keep my focus on praise! LOL) ... and for a husband that was confident enough and wise enough to seek shelter under an overpass when one came across our path.
Sometimes in our lacking confidence, we strive and push through situations where it would be best to stop, and reassess or take a break in the storm in fear that OTHERS might think we are weak or "not man enough".
My husband's confidence and seizing the opportunity brought blessings and sweet memories;
- of watching the water pour off the highway above us.
- of laughing together as rain water flowed forth from body places we never dreamed of when getting off a bike.
- of our riding leather being so soaked it added an amazing amount of weight to the load we carried. Not to mention the giggles and images that came when we thought about the leather as it dried and shriveled up.
- of getting to speak blessings and prayers over another biker couple who temporarily stopped under the overpass with us that needed encouragement.
- of being thoroughly kissed by the love of my heart under an overpass as vehicles and semi's traveled over the top of us.
Yes, this was an amazing day that even years later ... is impacting my life for the good.
I am totally loving and living my blessed life with thanksgiving and praise ... even on the rainy days.
What memories are water your inner being today?
I adore getting to hear and enjoy them with you for those that want to share!
My life and passion is all about Standing The Gap from where you are to where you can and want to be.
Be Blessed!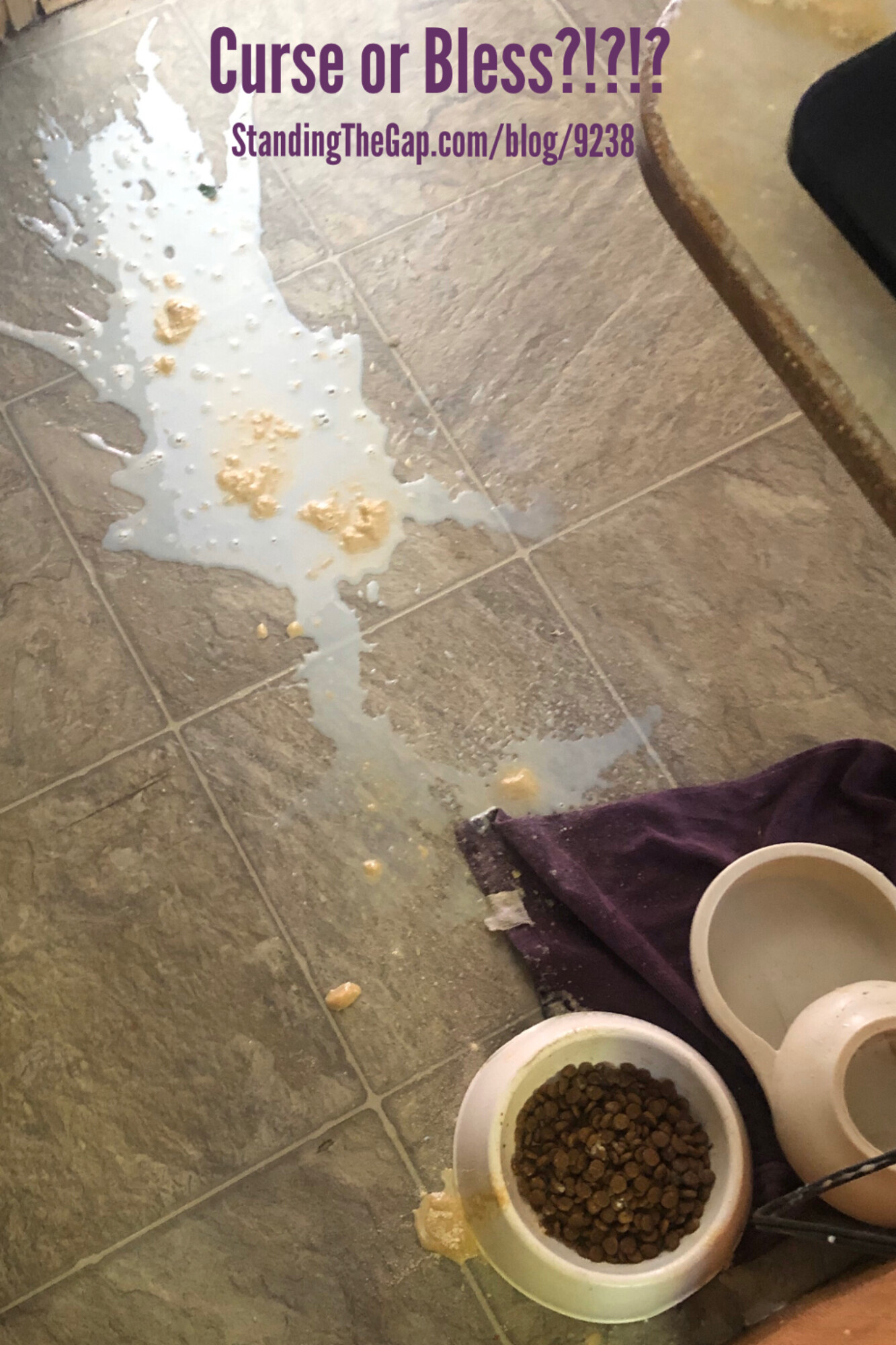 This sooooo happened yesterday morning as I was prepping to get out the door to a meeting with some wonderful women at New Creation in Christ in Espanola NM.
I had just mixed up my morning drink that I do with rice milk to get my much needed proteins in and was on the phone with my Czech sister of the heart when this happened ... yip, I totally dropped it! She got to hear my praise response first hand and started laughing as soon as I told her what happened and sent the photo I have posted here.
If you are in my Standing The Gap Encouragement and Accountability group you have seen And hopefully laughed with my Live video where I talked about this. (Bunny trail ... if you aren't in my special Facebook group ... why not?!?!?)
This was a milestone that I am celebrating as in the past something like this innocent, accidental, sticky, wide spread mess would have brought thoughts and self talk that were not positive and uplifting of myself and would actually tear me down mentally, emotionally, spiritually and even physically as you don't stand tall and walk with a pep in your step or smile on your face when you have beating yourself up.
This day I chose to look for the positive and give praise that I had more rice milk and more of my protein mix. I chose to praise that I had a clean floor to come home to. (I got to mop it 3 times before the sticky was gone ... and to be honest, I found a sticky spot last night - however I think the dog got it cleaned up for me. BIG GRIN!) I chose to praise that I had time to make another drink AND to mop my floor three times AND clean my shirt - yip! I even got it on my shirt! And I still had time to get to the WOW Study group with time to sit and soak up the sunlight before it started.
SO I CHOSE to CELEBRATE this growth in who I am.
What are you purposefully choosing to PRAISE instead of CURSE?
Share below so we can celebrate with you!!!
I'm excited to get to Stand The Gap from where YOU are to where YOU CAN and WANT to BE!
Get Ready! I'm preparing the way as Jesus is coming soon!
Be Blessed!